Description
These government/military size badge holders are perfect for larger IDs. Slot and chain holes allow for easy attachment to any badge reel, lanyard or chain.
Vertical top-load format
.010" thick front, .030" back
Clear Vinyl Vertical Badge Holder with Slot and Chain Holes, 2.8" x 4" - Outside Size: 3.18" x 4.78" - Insert Size: 2.80" x 4.00" - Attachment: Slot | Chain Holes - Card Capacity: Single-card - Anti-Print: No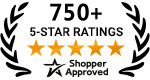 Payment & Security
Your payment information is processed securely. We do not store credit card details nor have access to your credit card information.