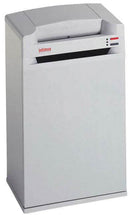 Description
Not your ordinary credit card shredder! Great for ID card shredding too.

Protect your company's confidential information with the whisper quiet Intimus 302 paper shredder.
Loaded with features like a 9 ½-inch throat, specially-hardened steel cutting heads, paper jam visual indicators, this quiet paper shredder is right for any office or department.
The 302 is engineered with electronic controls, a compact design, and an opening for non-shredded waste.
Features:
- Electronic system with microprocessor control.
- This strip cut paper shredder's unique horizontal feed opening allows the unit to be located under your desk or work table, saving valuable space.
- The easy to use shredder with the award winning design.
- This quiet paper shredder's plastic bags can be used for the quick and clean removal of the shredded waste from the catch basket.
- Compact and powerful, with whisper quiet operation.
- A large range of features makes it very easy to use.
- Catch basket with opening for general paper waste.
- Automatically stop / start activated via a light sensor.
- Visual indicators assist smooth operation with autostop and alert in case of paper jam.
- Solid steel cutter, made of specially hardened steel.
- Noise level - 80 dBA