Description
A Square Case Id Reel is perfect for card reader systems where a swipe is required, our square case retractable id name badge holders have a 36" cord, so you can conveniently extend your reel all the way to the reader.
Square Case Reel  is 1 1/4" x 1 1/4" with a slide clip on the back. Available reel colors: Royal blue, white, red, or black.
Sold in bags of 25 pieces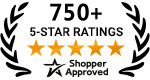 Payment & Security
Your payment information is processed securely. We do not store credit card details nor have access to your credit card information.