Description
Reels by Mini-Bak®  are designed and manufactured in America by Key Bak to deliver over 180,000 badge pulls and have a 36" cord.  These are not like some poorly made cheap retractable badge holders and are very sturdy.  The reel diameter is 1 1/4".  The mini-bak reels come with a choice of two clip attachments.  The reel colors come with a choice of both solid and translucent colors.  All mini-bak retractable reels are made in the USA. 
Sold in bags of 25 pieces
Made in the USA or approved by the GSA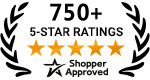 Payment & Security
Your payment information is processed securely. We do not store credit card details nor have access to your credit card information.