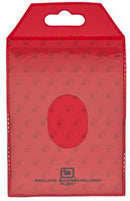 Description
The Secure Badgeholder Flex ia a great addition to the secure badge holder line of id protection. It is also on the approved card holder products list at idmanagement.gov. If you want to protect your building, then protect your access badges with the Identity Stronghold Secure Badgeholder® Flex™.
Much the same way the new RFID ( Radio Frequency Identification) credit cards and debit cards are susceptible to electronic wireless scanning of radio waves, so are 'tap and open' building access cards. Identity Stronghold's new Secure Badgeholder Flex offers the same protection as our Classic and Duolite products, but does so at a value available only with vinyl.
The Flex is a two-card holder, constructed of tough vinyl, with protection built right into the badge holder.  Holds 2 ISO7810 ID-1 form factor (standard credit card size) contactless smart cards.  Shields RFID chips in cards from being read without permission.
FIPS 201 compliant as an electromagnetically opaque sleeve.  Ergonomic design allows user to present card to reader with one hand without entirely removing card from holder, using the easy thumb hole.  User can easily insert and remove card from holder with one hand.
Shields ISO 14443/15693 and EPC Gen 1/Gen 2 contactless smart cards and RFID tags
Physically protects card, weather- and water-resistant
100% Made in the USA
Available in multiple colors - White, Black, Blue, Green, Red, Yellow and Orange Dimensions: 4-1/2" x 2-3/8"

Sold in box of 100