Description
These oversize badge holders are perfect for larger IDs like government or military badges. Slot and chain holes allow for easy attachment to any badge reel, lanyard or chain.
Government/military ID size
Horizontal top-load format
.010" thick vinyl front, .030" thick vinyl back
Clear Vinyl Horizontal Badge Holder with Slot and Chain Holes, 4" x 2.85" - Outside Size: 4.30" x 3.56" - Insert Size: 4.00" x 2.85" - Attachment: Slot | Chain Holes - Card Capacity: Single-card - Anti-Print: No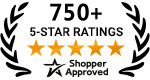 Payment & Security
Your payment information is processed securely. We do not store credit card details nor have access to your credit card information.