Description
 Brady Heavy Duty Badge Reel With Nylon Cord HD Strap 2120-3300 
Have something bigger than just badges and keys? This badge reel keeps everything secure with a nylon cord but also has a heavy duty strap. And it fits right on any pant, pocket, and belt with its belt clip.
Black and Chrome, Heavy-Duty Round Badge Reel with Nylon Cord, Reinforced Vinyl Strap and Belt Clip.   Reel Diameter 1-1/2" (38Mm), Cord Length 24" (588Mm)
Sold in bags of 25 pieces
 Brady Heavy Duty Badge Reel With Nylon Cord HD Strap 2120-3300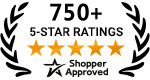 Payment & Security
Your payment information is processed securely. We do not store credit card details nor have access to your credit card information.