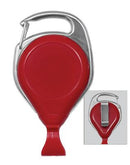 Description
These badge reels have a large 1 1/16th inch imprinting area for logos and other graphics. The reel is made of hard plastic with a belt clip and a no-twist 'U' shaped card clip holder to keep your badge facing forward. The reel also features a carabiner at the top so it can be attached securely to belt loops, other carabiners, or straps. The reel's cord has a nylon core and is wrapped with polyester so the badge reel will last as long as possible.
No Setup Fee!
These badge reels have full color flat labels for the custom logo or graphic.
If you have any questions about customization call us at 1-800-560-8158
How to order:
Add the badge reels to your cart after you upload your artwork, proceed to checkout, and complete your order.

After you have placed your order, we will create an electronic design proof for you to approve.
After you approve the design proof, we will produce the badge reels and send you tracking when they ship to you.
Sold in bags of 100
Reel diameter: 1 1/4"
Cord Length: 36"
Label Size: 1 1/16"