Description
 Baumgartens Proximity Card Holder - Vert (Qty 250) - 47820 
Baumgarten's Proximity Card Holder is a vinyl credit card size badge holder that has die-cut holes through front and back. Card cannot be removed when clip is attached.

250 per order. Maximum insert size: 3-1/2" x 2-3/8".
 Baumgartens Proximity Card Holder - Vert (Qty 250) - 47820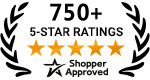 Payment & Security
Your payment information is processed securely. We do not store credit card details nor have access to your credit card information.