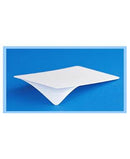 Description
These graphic quality pressure-sensitive cards are made of video grade PVC. Thickness: 10 mil. Size: Standard credit card/data card 2 1/8 x 3 3/8".
Color: White.
Available with paper release liner or a premium mylar liner.
Note: Mylar liner is recommended by Eltron and Nisca for all their printers because it feeds better and sheds no fibers. Pricing based on box of 100 cards with paper liner.